Featured
All Apps
Compare to
Parse emails and extract important info to a spreadsheet
Sophisticated email parser

Extract key information such as email addresses, phone numbers, names, and other relevant details from registration emails

Email backup

Continuous export / sync of a Gmail label

Export and enrich contacts from emails

Automated resume parser

Receipts and invoices parser
Integrated into Gmail No extra software!

Export and parse email messages to Google Sheets with 1 click!
Gmail Chrome Extension and Google Sheets Workspace Add-On
Backup all emails from a Gmail label to Google spreadsheet
Find all bounced email addresses
Export contact information to build an email list
Parse emails and export specific data from your emails or attachments
Fully Integrated With Gmail
Export Emails to Google Sheets is fully integrated with your Gmail inbox. You do not have to download anything to your hard drive. Everything works directly within Gmail.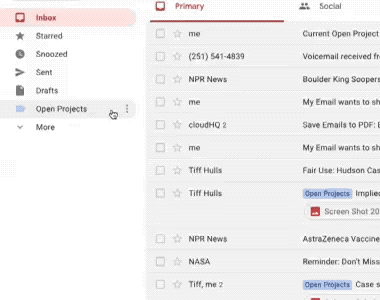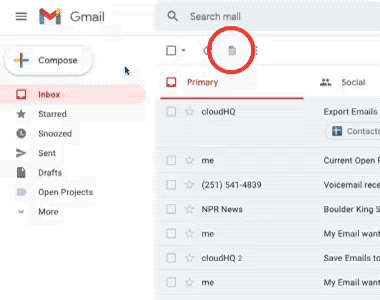 Export and Backup Any Label to Google Sheets With 1 Click
Select a label in your Gmail, click Export and parse label to Google Sheets, and your email and all attachments will automatically be exported to Google Spreadsheet. It's as simple as that! This is excellent to back up your emails or to share them with your teammates. You can organize client projects, legal cases, or anything that needs to be separated from the rest of your emails and exported to a spreadsheet in an organized way. You can even automate it so that any new emails that are filtered into your Gmail label will automatically get exported to your spreadsheet in a continuous way.
Quickly Save Emails to a Spreadsheet
You are in huryy and you need to save emails to a spreadsheet? Just select emails and select Save to a spreadsheet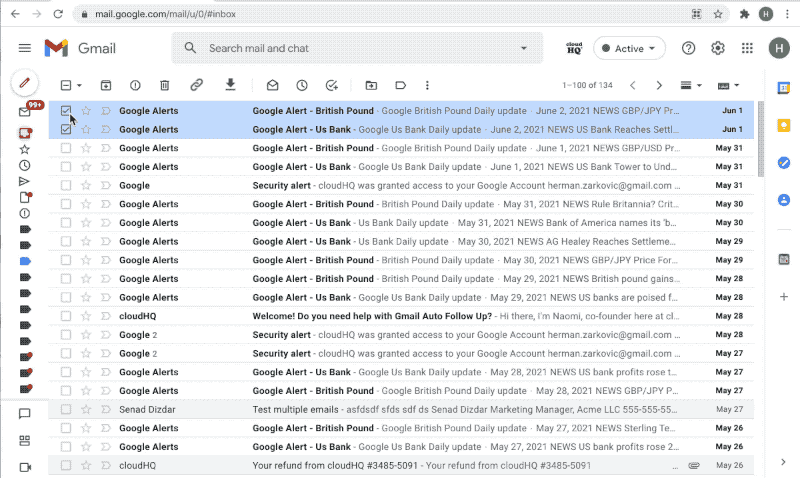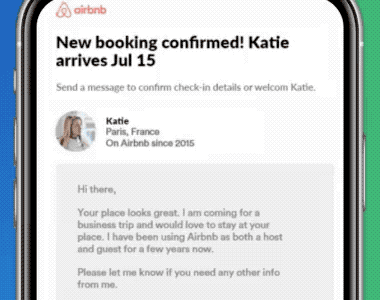 3 Phone Taps to Manage Your Online Sales
We made this mobile-friendly, free Gmail add-on for business owners on the go. Whenever you get a sales confirmation email or an email that's about your project, just tap your phone 3x, and voila! ✨
We'll organize it for you in a spreadsheet.✨

After you install the Gmail add-on: Open your Gmail mobile app and tap on any email you want saved in a Google Sheet. Scroll to the bottom of that email and find your brand new add-on icon. Tap that icon to export your email to sheets. Next, tap on "Spreadsheet with email messages" and finally "Go to spreadsheet" if you want to see it. It will be stored in your Google Drive account whenever you want to see it.
Build an Email List in 1 Click
You can export all of the contact information you have sitting in your Gmail inbox or a Gmail Label to a Google Sheet, which is beyond helpful for anyone looking to create an email list, or have a location to backup all of their contacts.
*Tip: If you're building an email list to send out an email blast, you can use our email marketing software MailKing.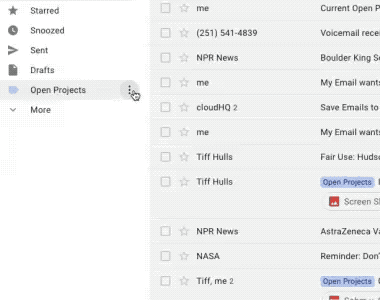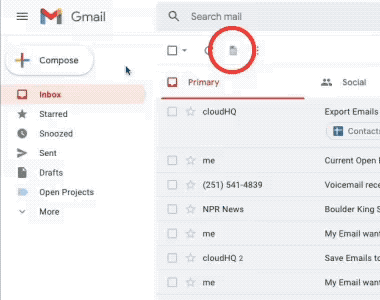 Export all Google Alerts
Google Alerts are an excellent way for you to monitor your name, company, competitors, industry, or even your stocks. Having a continuous backup of all your Google Alerts into a Google Sheet is helpful for you to go through them and monitor them.
*Tip: Another good way to use this feature is to monitor a topic, and then reach out to the journalists who wrote about that topic to pitch them with your spin. It can possibly get your name or business in their next story.
Find all Bounced Email Addresses
When you're sending emails, it's important to know who didn't get your message. Most people can handle one or two email bounces while they use their email for one-to-one emails, but when you're using your email to send an email blast, you really need to know whose email addresses bounced so that you can easily scrub your email list. That keeps your list healthy and makes sure that your future email campaigns aren't flagged by Google. Using this app makes it an ideal way to identify those bounced email addresses.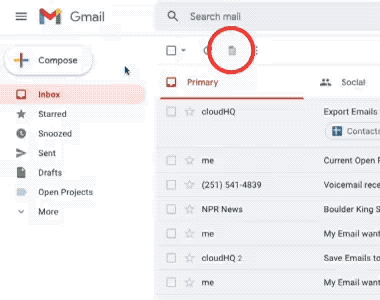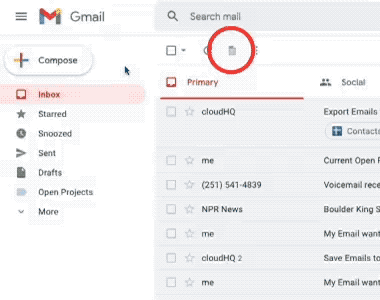 Backup Emails to Google Sheets and / or Google Drive
Backing up your emails to Google Sheets or even Google Drive is a quick process. Archiving important emails is necessary for past projects that you want to keep records of, or incoming projects.
Powerful Email Parser
Use our powerful email parser to define how to extract important information for your email messages:

Amazon AWS notifications
Mail campaign reports and bounces
Shopify notifications,
Invoices and receipts,
Signup / interest emails,
Amazon seller's feedback,
Order notifications,
etc.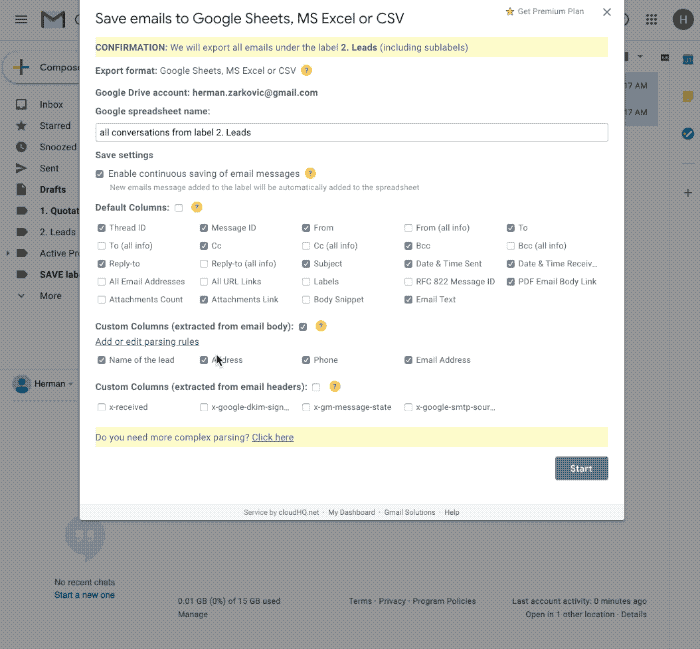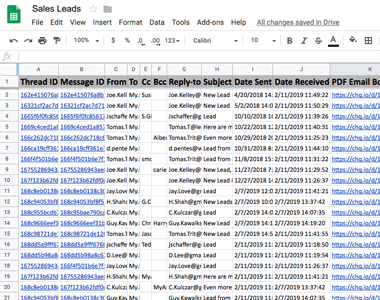 Leverage the Power of Spreadsheets
Once you've exported your emails, sort and organize your emails by:
From address
To address
Cc
Bcc
Reply-to
Subject
Date sent
Date received
Email text
The uses are limited only by your imagination!
Near Universal 5-Star Ratings
Export emails to Google Sheets, Excel, or CSV has almost universal 5-Star ratings from users who've downloaded it in Chrome.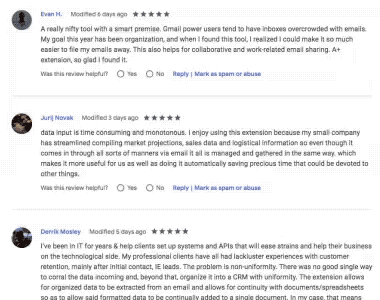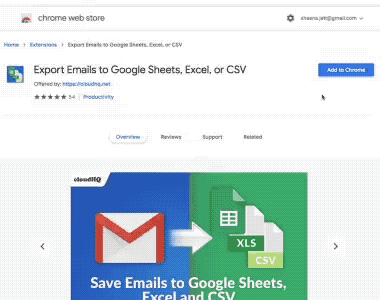 Installs in Seconds
You can easily install Export emails to Google Sheets, Excel, or CSV from the Chrome Web Store. Once installed, the tool will be seamlessly integrated into your Gmail or Google Workspace email account.
---
When and Who Can Use Export Emails to Google Sheets?
Order Tracking
How long does it take your business to fulfill an order? Find out by exporting and analyzing data from order and delivery emails.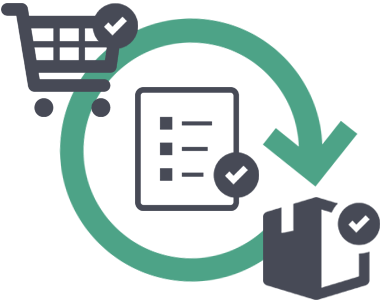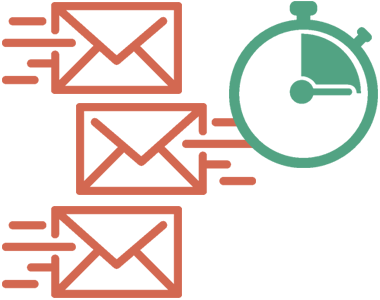 Email Response Time
Are you responding to customers quickly enough? Don't guess. Find out for sure by exporting your email history and analyzing the data from recent conversations.
Bounced Email Tracking
Sync bad emails to a spreadsheet using a Gmail label, then batch purge them from your system all at once — instead of processing them individually.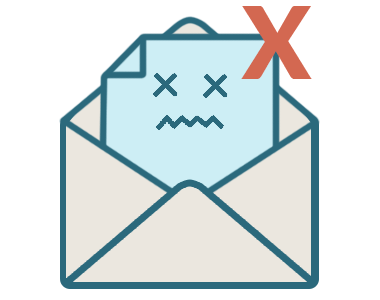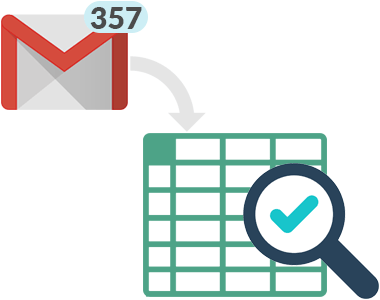 Discovery for a Lawsuit
Working on a lawsuit? Reviewing emails is a huge part of modern discovery for attorneys and HR professionals. Bosses and business owners also get pulled into this kind of investigation — trying to figure out what happened. Now you can grab all the emails you need and review them in one spreadsheet.
Import to Any Database
Import your email data into any other database by syncing a label to your Google spreadsheet. The sheet stays updated automatically!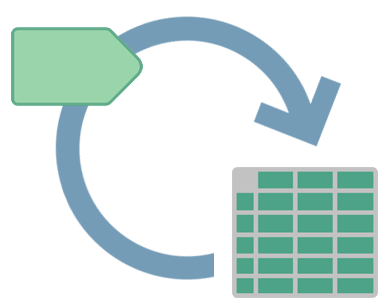 For Small Business Owners
Export your email data and use it in any number of ways to improve your business. Export emails to create a mailing list. Keep track of orders and deliveries. Analyze delivery and response times so you can improve them. You can even combine email data with your customer database.
For Marketers
Capture the email list from your latest webinar or trade show booth, then keep in touch with the list through your email marketing activities.


For Lawyers
For the discovery phase, export all emails related to a topic or from a specific email address. Review the full story of an event all in one spreadsheet — instead of flipping through dozens of individual emails within Gmail.

*Bonus: When you buy an upgraded version of Export Emails to Google Sheets, Excel, or CSV, you'll automatically get Save Emails as PDF for free so when you need to go to court, you can print the emails as 1 large PDF.
For Job Recruiters
You're posting on multiple sites, and it's hard to keep track of them all. Everytime you get a resume, have it auto populate into your spreadsheet, that way you can review candidates side-by-side to see which candidate has the best qualifications for the job.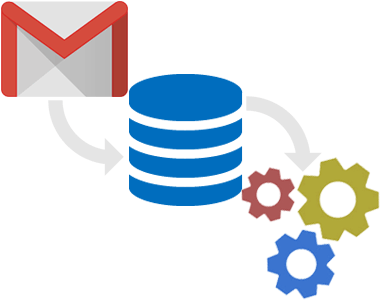 ETL: Extract, Transform, Load
Make your data versatile! Extract and transform email information so it can be combined with business data from other sources in your company.
Translation of Emails
Gather and export emails, then send them to a translator for processing with a single document — a much cleaner process than forwarding dozens of emails individually.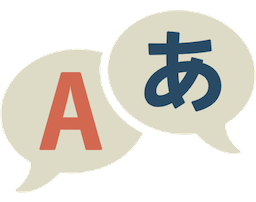 Parse Shopify emails
You can parse your Shopify emails and can save countless hours of work through simple clicks. With Export Emails to Sheets you can automate your Shopify workflow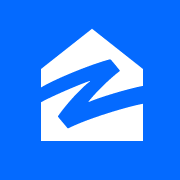 Parse Zillow notifications
Do you receive tons of leads and inquiries via email from Zillow and other real estate platforms? Are you looking for a way to automate data extraction from those emails? With Export Emails to Sheets, you can automatically extract information from real estate emails in just a few clicks.
Extract car sales leads
Are you in the automotive industry or in car dealerships? Do you get hundreds of car leads from your emails, contact forms, and other automotive lead generation sites? The format in which you receive that information from potential car buyers may be different and poorly structured - but you can easily parse them with Export Emails to Sheets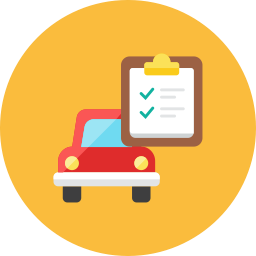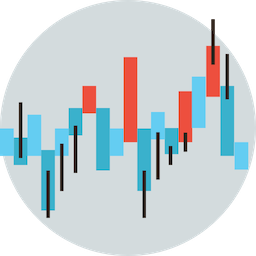 Track and analyse trades in Google Sheets
Are you a trader? Most of online brokers offer to track your trade history directly in their app. However, many brokers restrict the extent of data analyses in some ways: some restrict the history retention period, some others have very poor analyses and charting tools and some restrict trade details when downloading your trading history. With Export Emails to Sheets, you can automatically export all trades from your online broker accounts into a spreadsheet.
---
Frequently Asked Questions
What is an email parser?
An email parser is a software tool that allows you to extract data from incoming emails. It can be configured to pull specific data fields from the emails, converting an unstructured email into structured data. This can include data from the email body, headers, and even attachments.
What are the typical use-cases for an email parser?
An email parser can be used to extract data from any machine-generated email such as purchase orders, contact form emails, and emails sent by lead providers. It is commonly used for automating order fulfillment in e-commerce, automating a lead generation process, and centralizing data sent by email from different web-forms.
Why is email parsing software important?
Email parsing software is crucial for businesses that receive a large number of emails daily. It eliminates the need for manual data extraction, saving time and resources. The software automatically collects data, reducing the risk of manual data entry errors.
Is email parsing similar to web scraping?
Yes, email parsing is similar to web scraping. However, instead of extracting data from HTML websites, email parsing scrapes data from emails. This can include email header content, body content, and even the signature of incoming emails.
How does email parsing work?
Email parsers pull specific emails directly from your mailbox. Once the emails are available to the email parser, a parsing algorithm extracts the data fields you are after from the email. Most email parsers are rule-based and allow you to create custom parsing rules.
Can I setup continuous job to parse emails automatically?
Yes, with Export Emails to Sheets, you can set up a continuous job that monitors emails matching a specific query or label. As soon as a new email is detected, it will be parsed and exported to Google Sheets automatically.
How to evaluate email parsers and why is Export Emails to Sheets better than others?
The best email parsing apps extract specific information from your email and its attachments, are easy to set up, put the data where you want it, and are user-friendly. Export Emails to Sheets by cloudHQ meets all these criteria, making it a superior choice.
Why should I use Export Emails to Sheets?
Export Emails to Sheets allows you to easily extract, organize, and analyze data from your emails. It automates the process of data extraction, saving you time and resources. It also allows you to easily share and collaborate on the extracted data with your team.
Can Export Emails to Sheets parse attachments?
Yes, Export Emails to Sheets is capable of parsing attachments. It can extract data from attachments such as PDF, Word, and Excel files.
What are the features of Export Emails to Sheets?
Export Emails to Sheets provides features such as export and parse emails, backup and archive emails and attachments, automatic entity extraction, extract contacts from emails, create spreadsheet with answers from email surveys or polls, email attachments management, email analytics and stats, automatic invoice and receipts parsing, organizing and saving, automatic resume parsing and management, automatic bounced email detection and collection, export all Google Alerts, shipment and delivery management, and more.
What are the most common use cases for Export Emails to Sheets?
Common use cases include legal discovery or discovery for a lawsuit, backup and archive, sharing emails with your team, and use by online sellers or resellers, small business owners, marketers, lawyers, job recruiters, hiring managers and HR, freelancers on platforms like Fiverr or Upwork, real estate professionals, sales professionals, traders, and more.
How secure is Export Emails to Sheets?
Export Emails to Sheets follows best practices to ensure your data remains private and secure. It uses industry-standard OAuth password-less authorization protocol when connecting to Google, does not store your files, encrypts all 256-bit AES keys for encryption and decryption of users' credentials, and communication between cloudHQ servers and Google servers is always done over a secure SSL channel.
Do you store my emails on your servers
No, we do not store your emails on our servers. cloudHQ uses industry-standard OAuth password-less authorization protocol when connecting to Google. This means cloudHQ has no access to your passwords for these services. cloudHQ does not store your files. When cloudHQ accesses your data via API, it might temporarily cache part of the content, but cloudHQ never stores any of your files permanently on its servers.
Where are my PDFs with emails stored?
Your PDFs with emails are securely stored in your Google Drive. The Export Emails to Sheets application by cloudHQ ensures that all your emails are converted into PDF format and saved directly to your Google Drive. This allows for easy access and management of your files.
Can I create one PDF file from all emails in the Spreadsheet
Yes, you can create a single PDF file from all emails listed in a Spreadsheet. Here's how to do it:
1. Open your spreadsheet and select the desired sheet.
2. Copy the URL from the Google Chrome address bar.
3. Log into cloudHQ.
4. Go to the following page:
https://www.cloudhq.net/main_gmail_sheets/sheets_to_pdf
.
5. Enter your spreadsheet URL and click on the 'Next Step' button.
6. Select convert and save options and click on the 'Start Save' button.
What is E-Discovery and how can Export Emails to Sheets be used for it?
E-Discovery is the electronic aspect of identifying, collecting and producing electronically stored information in response to a request for production in a law suit or investigation. Export Emails to Sheets can streamline and expedite this process by allowing you to identify, preserve and collect, process, review, and analyze, and produce and present all relevant communication in a single, unalterable copy.
Where can I find the pricing?
You can find the pricing details for the 'Export Emails to Google Sheets' application on our website at
https://www.emails-to-sheets.com/pricing
. We offer a range of subscription options, including a free Basic plan and several Premium plans with additional features and capabilities.
Do you offer support and help?
Yes, we provide comprehensive support to our users. You can access our knowledge database at
here
. If you need further assistance, feel free to email us at
support@cloudhq.net
. We strive to respond within 24 hours. Additionally, if you encounter difficulties in setting up your export, we offer Zoom consultations which can be scheduled
here
or
here
.
Do you have some youtube videos to see it in actions?
Testimonials
"Exporting emails to sheets manually was a daunting task for our team. With this tool, we've saved so much time and avoided potential errors."

- Guillermo P. Kennedy - DATA ANALYST
"Converting our communications from Gmail to spreadsheet records was a breeze with this solution. It's become an essential part of our workflow."

- Barbara Hertzog - PROJECT MANAGER